Could you be loved? Then be loved! Could you be loved? Then be loved!
- Bob Marley, Could You Be Loved, Uprising 1980
"Oh man! You left me hanging!" Regardless of the preferred form, the fist bump, high-five or the simple gentleman's handshake, most folks have experienced this let down before. The proverbial "right hand of fellowship" goes out in vulnerability to find only the cold air of unrequited intimacy. These are the moments when you are "left hanging"!
For any handshake or fist bump to reach completion it must find a momentary connection with its intended partner. Without this reciprocation the initiator finds only a dry, desolate place of empty, pitiful embarrassment. Am I overstating it?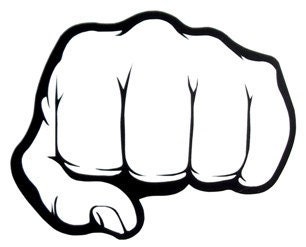 What about that hoped-for first kiss? Men, you know what I'm talking about, when on that doorstep so long ago you went boldly searching for puckered lips and instead met a quickly-turned "friendly" cheek. The joy of intimacy depends upon reciprocation - anything less is something much closer to the pain of rejection.
Megan and I just returned from a blissful vacation on the cliffs of Negril, Jamaica. We snorkeled, I caught up on some reading, we jumped off 30-foot cliffs into the Caribbean Ocean and we did NOT turn our iPhones back on until we returned to the United States.

(Editor's note: Incidentally, there's nothing more ridiculous than a middle-aged, white guy fist-bumping Rastafarian beach hoppers whilst saying things like "everyting is aright" or "respect mon!".....and yet there I stood bumping!)
During our stay at the resort, like a chant, our waiter, Randall, uttered one phrase again and again. Every time we thanked him for his service, he responded, "Ah, thank you for enjoying it!"
"What? That doesn't make sense", we thought. "We just thanked him for the dinner, dessert and wine! Why does he keep thanking us?" Yet he continued throughout our (all-too-short) trip repeatedly telling us after each meal or drink to "keep it up!". We asked him, "keep what up?" to which Randall replied, "keep enjoying all this.....it's all for your enjoyment!"
During the vacation I couldn't help but reflect upon our peculiar exchange. Randall had caused us to consider both his gratitude for our enjoyment and his whimsical admonition to continue in our joy.

A week after our return I've come to the conclusion that it was our grateful reception of the chef's food, Randall's service and our mutual acknowledgement of God's sensational creation that was Randall's hope for us.
He knew if we didn't enjoy the food, his service and the beauty of Jamaica then we'd miss the point of our time. He was encouraging us toward gracious receptivity of all those good things and he was most grateful when it was evident that we'd joyfully received them!
The Gospel implications are clear to me now.....

The bride belongs to the bridegroom. The friend who attends the bridegroom waits and listens for him, and is full of joy when he hears the bridegroom's voice.
That joy is mine, and it is now complete.
- John 3:29
Here The Gospel of John records Jesus' description of the reconciliation (read eternal marriage) between God and man made possible by Jesus' life, death and resurrection. Jesus is essentially saying to the disciples "you now know that I and The Father are one. You have received this truth and your reception has completed my joy!"
Later in John's Gospel the focus turns from Jesus' completed joy to the ways in which the believer can share in that joy. Jesus describes the authority that His name grants the believer and the joy that is available to the man who prays in the name of Jesus....
Until now you have not asked for anything in my name.
Ask and you will receive, and your joy will be complete.
- John 16:24
Later, before suffering crucifixion, Jesus prays to The Father for the fullness of His Joy for His disciples....
I am coming to you now, but I say these things while I am still in the world, so that they may have the full measure of my joy within them.
- John 17:13
Randall the waiter reveled in our enjoyment of his service. In a like manner, and yet to an infinitely greater extent, Jesus desires that we receive His gift in full. Jesus is praying here that His disciples will not lack any of His joy but will instead receive IN FULL the joy that He enjoys because of His perfect unity with The Father....
...Jesus, the founder and perfecter of our faith, who for the joy that was set before him endured the cross, despising the shame, and is seated at the right hand of the throne of God.
- Heb. 12:2
All these verses about joy give us a sense of (a) the fullness of the God made manifest in Jesus Christ and (b) the unity mankind can share with God now because of Jesus' perfect obedience.

Christ's teaching of and prayers for the completion of our joy indicate that what is available to the believer is nothing short than the fullness of God, the peace (of God) that passes understanding. And He is graciously praying that we will enjoy all that with Him and He is most glorified here and now (and eternally) when we do!
On the cross God opened his arms and reached out to all humanity through Jesus Christ who, in weakness and vulnerability, suffered the punishment, humiliation and loneliness that all of mankind deserved and He was left hanging! Rejected and scorned, for our sake he who knew no sin became sin that we might have the righteousness of God (2nd Cor. 5:21).
Like a spiritual equation Jesus describes how His joy can now be ours and can overflow from us....
"As the Father has loved me, so have I loved you. Now remain in my love.

If you keep my commands, you will remain in my love, just as I have kept my Father's commands and remain in his love.

I have told you this so that my joy may be in you and that your joy may be complete. G

reater love has no one than this: to lay down one's life for one's friends.

You are my friends if you do what I command.

I no longer call you servants, because a servant does not know his master's business. Instead, I have called you friends, for everything that I learned from my Father I have made known to you.

You did not choose me, but I chose you and appointed you so that you might go and bear fruit—fruit that will last—and so that whatever you ask in my name the Father will give you.

This is my command: Love each other

."
- John 15:9-17
Christians, having received the indwelling Spirit which reveals the truth of Jesus Christ's saving love, can share in hope that does not disappoint (Rom 5:5) and thus, the only joy that will never end.
But those who have "left the Son of God hanging" do not know that He has risen and conquered death, they do not know what God has achieved through the Cross of Christ and they cannot share in the completed Joy of the Son who obeyed his father unto death.
The hope of the unregenerate man is fleeting, consequently he cannot share in Christ's joy. He is at the mercy of his circumstances. His successes in life provide him only a false sense of security that he must inevitably relinquish at death's door and his disappointments in life will only crush him leaving him without hope in this life. Sound dire? It is. There's nothing more dire than man who denies the existence, love and salvation made possible by his Creator.
Yet there Jesus hangs, waiting to be received, waiting to be loved as He loved with His every breath and drop of blood. The Gospel is this: In Jesus Christ, God has loved the unlovable and helped the helpless. In the midst of our desperation God has reached out to mankind.
Don't leave him hanging - let Him complete your Joy!
Bob Marley famously asked, "Could you be loved?" I don't presume to understand the Rastafarian religion or his full intentions in this fantastic lyric but The Gospel of Jesus Christ exploding in the heart of men and women hinges on his/her response to this question.

The question is not "are you lovable?" The question is "though you are unlovable, can (or will) you receive the love of God?" If so, then reciprocate His love by first receiving it - let your joy be complete in Him.
Could you be loved? Then be loved!
matt
This Month
Tuesday, Oct. 2nd - The Magills - BScene Magazine Cover Unveil Party at Fresh, 6991 Old Jacksonville Highway- 6-8:30pm
Wednesdays in October - Men's Gathering - Watchman Nee's
Love Not the World
. Ritcheson Law Firm 2 American Center, 5th Floor, Tyler, TX - 7am
Saturday, Oct. 6th - The Magills at Fresh, 6991 Old Jacksonville Highway, Tyler, TX - 6-9pm
Sundays in October - The Magills at Bethel Bible Downtown Campus, 202 S. Broadway - 10 AM service
Mondays in October - Men's Gathering - Matt Chandler's
The Explicit Gospel
- Dakota's Steakhouse at 12pm - Tyler, TX
Thursday Oct. 11th - The Magills at Bushman's Event Center - The Lone Star Salute to benefit The East Texas Women's Crisis Center - 6:30-10pm - Bullard, TX
Saturday Oct. 13th - The Magills at El Charro, 2604 East Erwin Street - 7-10pm - Tyler, TX
Saturday Oct. 20th - Jake's On the Square (Rooftop Lounge) - Tyler, TX
Saturday Oct. 27th - KE Cellars - French Market Mall - 6-9pm - Tyler, TX